---
Saturday, May 8, 2021
Celebrating Asian Heritage Month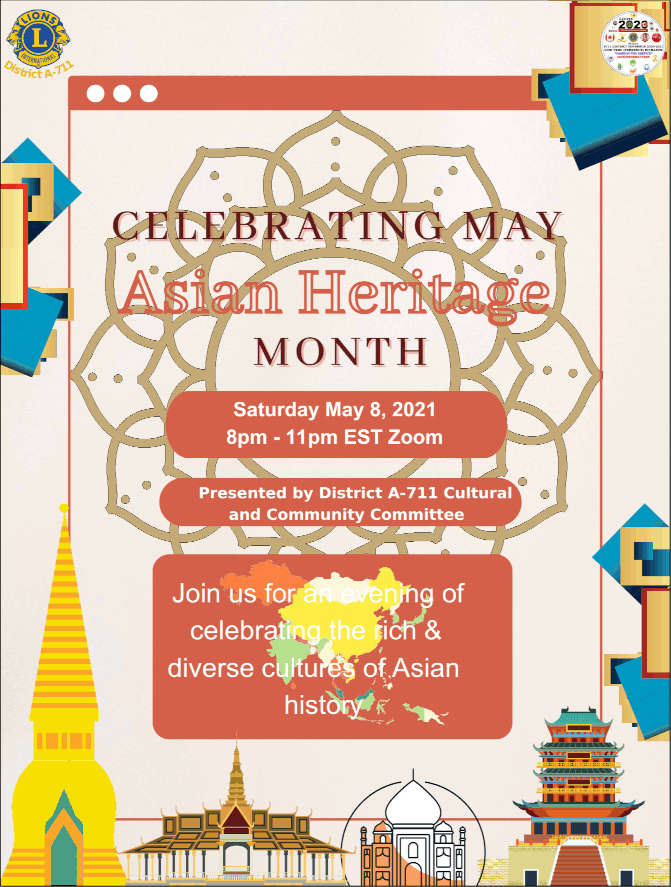 April 27, 2021: APPEAL FOR HELP...
SERIOUS HUMANITARIAN CRISIS
As you are aware India is undergoing one of the worst Humanitarian Crises of a very high magnitude and there does not seem to be any end in sight.
The Oxygen supply in the hospitals has dwindled to the lowest level AND THE LIVES ARE BEING LOST EVERY MINUTE OF THE DAY.
Toronto Netralya Lions Club in collaboration with Vraj Canada Community Center who have started a drive to send to India directly Oxygen Concentrator machines to the severely affected Hospitals.
The drive is underway in full swing. The intent is to have at least 100 Oxygen Concentrators delivered with a minimum delay. The manufacturers of the equipment in Korea have already been contacted and have promised delivery within a week of receiving order.
The cost of each machine is CDN $320.00.
We are seeking your help for contributing to this humanitarian cause by pledging the number of machines. The donors will receive the Canadian Charitable Donation receipt for tax purposes.
This morning we also reached out to Lion Dr. Naresh Aggarwal , Past International President (in Mumbai), who will coordinate the distribution of the machines through local Lions Club to the hospitals.
Please see Letter of Appeal, with details on how to pledge and e-transfer funds. Pledge number of machines and E-transfer funds to .
Cheques can be made to Toronto Netralya Lions Club and mailed to:
TNLC
3390 Midland Ave. Suite #2.
Scarborough, ON. Canada. M1V 5K
April 20, 2021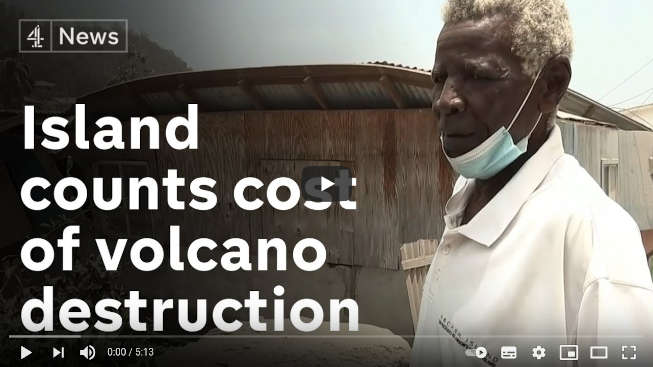 Many thanks to all those who responded to our District Governor Lion Tebo's appeal last Thursday by contributed much-needed items, which are already on their way to St. Vincent.
Members of the A711 Disaster Relief Task Force Committee were able to talk on a Zoom call with the President of the St. Vincent Lions Club on Friday night who said that they are able to get some much-needed items from the neighbouring islands and from Guyana, some are donations but they also bought what is urgently needed. One of the things he pointed out to us is that there are people who refuse to be evacuated, particularly farmers who do not want to leave their livestock, and they have to get food and water to those people, not only for the people but also for the animals as there is no grass for them to eat-everything is covered with ash.
It is obvious to us, that the urgent immediate need is for money. We are therefore appealing to all the Clubs in District A711 to make a financial contribution to this cause.
Please Note:
All Donated cheques should be sent to the District Treasurer, made payable to District A-711, putting 'St. Vincent Disaster Relief' in the memo space.
All donations will be forwarded to the Bank account of the dedicated Bank in St.Vincent in the care of the Kingston Lions Club in St. Vincent.
We are appealing to each and every club in the District to participate in this effort and there is no minimum or maximum amount. We will welcome from $100.00 to $10.000.00 but we hope that every club will participate. If members would like to make additional personal donations, you are welcome to do so also, either by sending a cheque or e-transfer to either or to .
On behalf of the Committee, I wish to thank you for your support, living up to our motto "We Serve'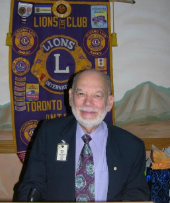 Thank you!

Member of the Task Force Committee
Home Club: Toronto Kaiteur Lions Club
March 9, 2021
District A-711 celebrates International Women's Day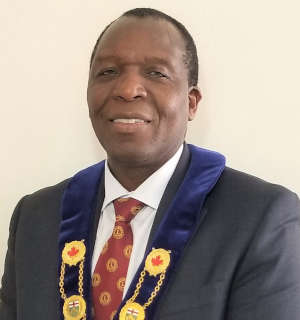 February 6, 2021
As a result of PDG OJ Wilura taking on new responsibilities as the GAT Area leader area B Canada. (MDA and MDN) there is now a vacancy for the position of Global Membership Chairperson for MDA.
I am happy to announce that IPDG Dan Sibana has agreed to take on the position of MDA - GMT along with the Retention portfolio.
We are very proud of our Lions in MDA and wish them both continued success in their new assignments.
November 11, 2020
Peace Poster Contest
This year's theme was "PEACE THROUGH SERVICE"
Voting at the District level was opened to the Core DG Team, Region and Zone Chairs as well as District Committee Chairs (58 voters). The Election Runner electronic voting poll was open for 21 hours. The results break down as follows: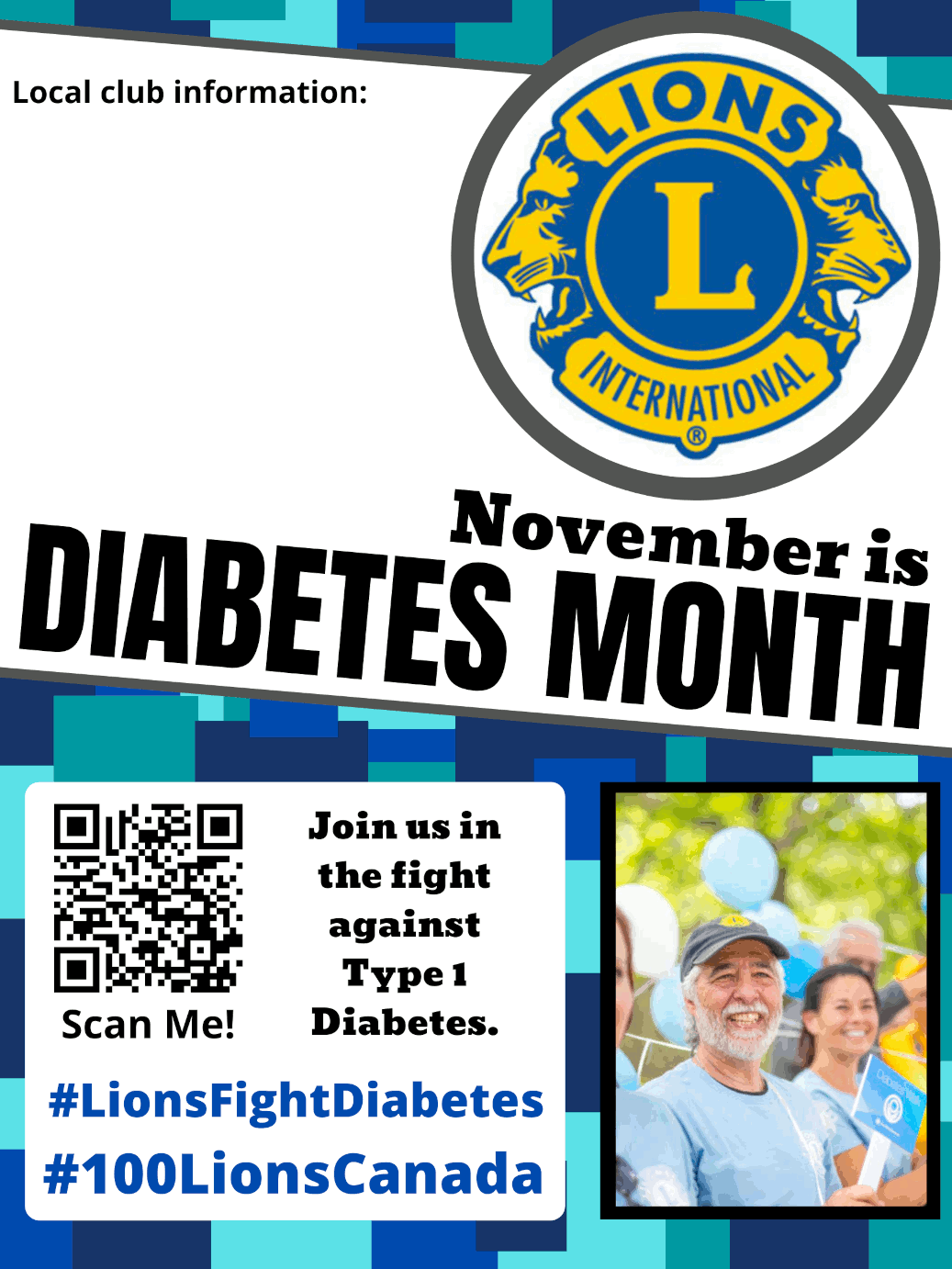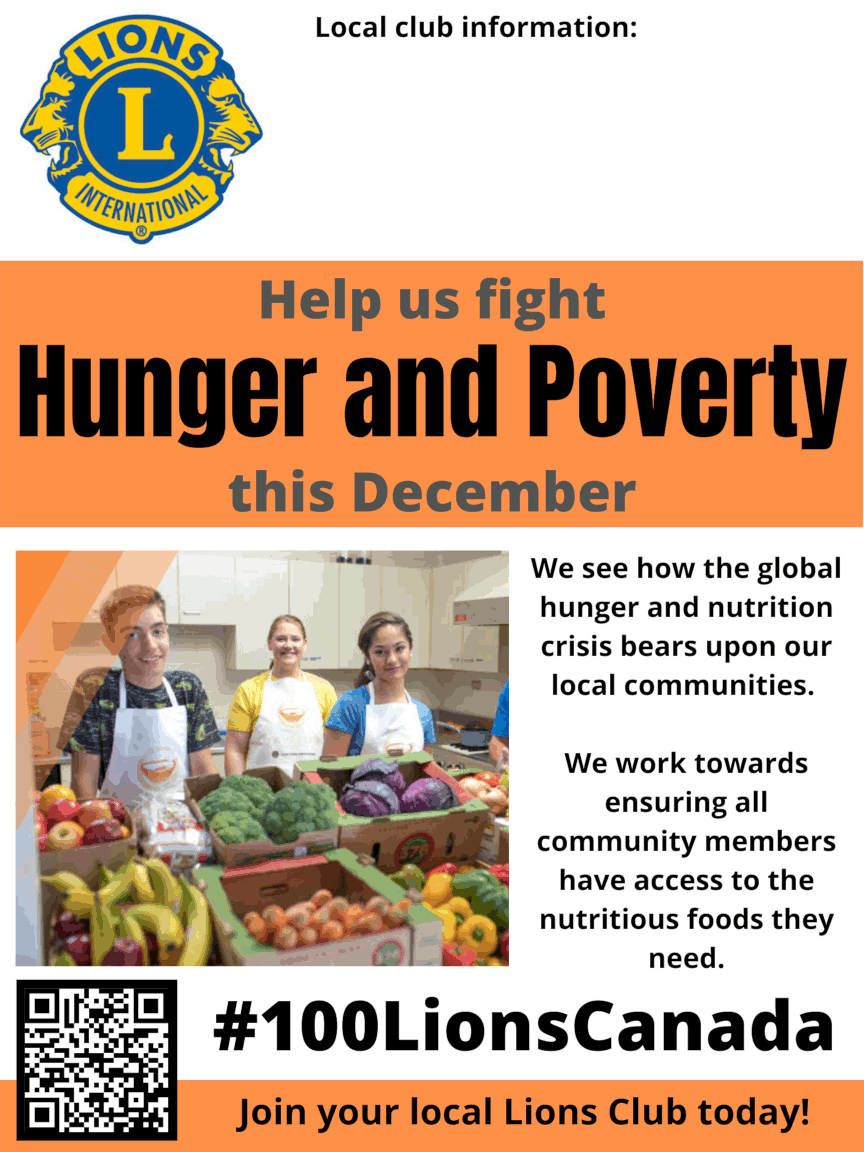 Lions from across Canada are working to build a Stronger Identity for Lions in Canada, in order to support each district's service, public image and membership growth. Lions Clubs are encouraged to use these public awareness posters to support all things Lionistic in Canada.
Fellow Lions,

Great News, our fundraising event was approved by the Sick Kids Foundation and is Live on various social media platforms.
Please click on this link to see how you can donate.
Suggestion: after you have received your pledges and donations visit the site and submit your funds collected.
This link can also be copied and shared to our friends, family, and supporters, if you need a letter to solicit further funding, please feel free to contact me.
Sick Kids Foundation administration will assist with questions on Tax receipts, please follow the instruction on the event page.
Let's make our Clubs proud and support this event.
Yours in Lionism

Toronto Kaiteur Lions Club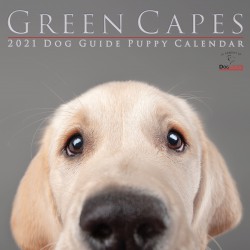 Green Capes Lions Club is a virtual specialty club made up primarily of foster puppy parents who raise money for Dog Guides. Our big fundraiser is our calendar filled with many beautiful pictures of puppies.
We have a program that we hope you will help us promote to other Lions Clubs within the A711 District. It is called Green Capes for Lions - A National Lions Club Fundraiser. The program we have developed allows Lions Clubs to earn money for their clubs by selling the 2021 Green Capes Puppy Calendar. The club sells the calendars for $18 to $20 each and pays $9 back to Green Capes Lions Club. The remaining proceeds are kept by the Lions Club to use anyway they'd like to benefit their community. The money we receive back will go support Dog Guides. We see this as a WIN-WIN for Lions.
We have developed a website with all the information that clubs need to participate in this program. We would ask that you take a look to see how easy it is to use. It is found at www.greencapesforlions.com.
Lions Foundation of Canada Online Auction
Hello All,
I hope you are doing well. We are proceeding with our annual Online Auction this Fall and I am looking for help collecting donations. Ideally, I am in need of donations valued at $100 or more. Preferably brand new, never used items, or in very good condition. Additionally, items specific to your province would be very beneficial, as we always lack donations nationwide. Anything easy to ship is greatly appreciated. If you have any questions please do not hesitate to reach out to me. The quickest way to reach me at this time is through .
Kind Regards,
Katie Gray
Event Coordinator and Interm Walk for Dog Guides Manager
Lions Foundation of Canada Dog Guides
152 Wilson Street
Oakville, ON L6K 0G6
Phone: 905 842-2891 Ext. 226
Toll Free: 1‐800‐768-3030
Fax: 905 842-3373
www.dogguides.com
September 14, 2020
NOTICE OF SPECIAL CABINET MEETING 03-OCT-2020 TO FILL THE VACANT A711 FIRST VICE DISTRICT GOVERNOR (FVDG) AND SECOND VICE DISTRICT GOVERNOR (SVDG) POSITIONS
With thanks for his service, unfortunately, FVDG Paul Maguire has tendered his resignation and has asked to be replaced. We respect his privacy and send him best wishes and understanding at this difficult time wishing him all the best in his future endeavors.
As provided in our A-711 Constitution & By-Laws (C&BL) revised May 2020, I hereby convene a Special Meeting of the existing cabinet and all Past International Officers (Past District Governors) to fill the vacancy in the office of FVDG/SVDG for the remainder of the term 2020-2021:
DATE:
Saturday, October 3, 2020
VENUE:
Virtual (connection details to be sent to voting officers)
Below is the Initial Notice to fill the vacancy in position of our First and Second Vice District Governor. Kindly share this message with your fellow members. If there is qualified candidate who is interested, please email our Nominations & Elections Chairperson and providing the full name, club, and position desired, along with a resume (record of Lions service) for verification.
If you require further information, please do not hesitate to contact me. Thanking you in advance for your usual kind cooperation.
Stay safe, healthy, and COVID-19 free, you and your family.
Together in Service

Thistletown Lions Club, Toronto, ON
District Governor (DG) 2020-2021
Marketing Communications Team hosts first training session
Friday, August 21, 2020
UPDATE: Our initiative to raise funds for the Bhattarai family tragedy has successfully raised $1,020. The collection of funds through email transfer is now closed. Those who still want to donate can do so directly to the family.
Tuesday, August 11, 2020
We are raising funds for the funeral (and family support) of happy kid "Ryan Bhattarai" of age 3, who passed away tragically on Tuesday 11 August 2020 at about 11:07 am due to a heart wrenching car strike. The terrific accident occurred in Etobicoke near Burnhamthorpe Road and East mall Road intersection in front of his sister age 7 who is injured and asking for help after being struck along with Ryan. Fortunately, she is in a non-life-threatening condition. She says, "she lost her baby brother" without thinking much with her small brain. The most unfortunate father who lost his son was holding his hand at the time of the scene is still in a traumatic condition.
The father, Ramesh Bhattarai, is a new Lion of the Toronto Capri Lions club.
Anyone who wishes to help can e-transfer a donation (or request information on other methods of donating) to . 100% of the donations will go to the family.
NAMI EARLY BIRD ENDS
AUGUST 31, 2O2O
FAST START - NEW CLUB AWARD
-
International President Award
to Two Lions who led in the formation and chartering of a New Club. CONGRATULATIONS to TORONTO CAPRI LIONS - NAMI NEW CLUB AWARD
CONGRATULATIONS TO GTA-LIONS CLUB - WINNER OF THE NAMI CLUB REJUVENATED AWARD. They added 11 members in less than 2 months.
Contact your for questions or inquiries.
Fellow Lions and Humanitarians,
On Tuesday, August 4, a massive explosion rocked the city of Beirut, Lebanon. More than 300,000 Lebanese have been displaced from their homes, thousands injured, over 100 confirmed dead, and many more missing.
When a humanitarian crisis of this magnitude strikes, we, as Lions, are ready to help. Right beside us is Lions Clubs International Foundation (LCIF), our global foundation.
LCIF is currently partnering with Lions in Lebanon to provide US$10,000 in immediate relief to children, families and communities suddenly struggling with everyday needs…struggling to remain safe.
You can help. You're generous donation to LCIF's disaster relief fund will help deliver further funds to Lebanese families.
In friendship,
Gudrun Yngvadottir
LCIF Chairperson
2020-2021 Club Officers Training
Our Global Leadership Team came up with the following to give you the utmost effective training we could offer.
The Club Officers to be trained are the President, Secretary, Treasurer, and Membership Chairperson.
The training will be in three separate groups in three separate Zoom sites.
Group 1 - Training for Presidents & Membership Chairpersons
Group 2 - Training for Secretaries
Group 3 - Training for Treasurers
The training will be done simultaneously.
In registering, you MUST indicate the Position you are intending to attend.
Basing on your confirmation of the Officer training you chose, you will be assigned to the Group doing the training for the said position.
The ZOOM site particulars will be sent to you. You can only access the Zoom meeting assigned to you.

---